Butterfly Garden Themed Wedding
At each Premier Bride Expo an extra special twist is added to each show that brides and vendors enjoy…our shows are themed.  Vendors are encouraged to decorate their booth according to each theme and the entrance ways and stages also reflect the show theme.
Wedding themes are very popular.  It is not just about colors anymore but brides and grooms are looking to set a mood that can be carried through from the invitations to ceremony to the reception  and all of the special elements in between. 
As producers of the show we try to pick themes that are a direct reflection of what is trending in weddings and sometimes we choose a timeless classic. 
The wedding vendors that will be at the Premier Bride Expo in St. Augustine Florida are extremely talented.  Brides, grooms, friends and families are in for a treat who attend this show.  Over 130 booth spaces will fill the floor with the most talented, creative and professional wedding vendors in the area.
The theme for the St. Augustine bridal show is "Butterfly Garden."  Florida is full of beautiful flowers, wildlife and outdoor settings, so we loved the possibilities and the creative ideas we thought of when thinking of "Butterfly Garden." 
A trip to the Jacksonville Zoo inspired this theme….they have a butterfly garden that people love to gather in and take in the wonder of this beautiful, colorful creatures.
If the team at the Premier Wedding Expo was to plan a wedding with the theme of "Butterfly Garden" this is what the important elements of the wedding would look like!
When creating a wedding inspiration board, it is important not to copy someone else's work or ask a wedding vendor to mimic someone else's ideas.  Make your wedding unique and think of your own special touches!
One of our favorite aspects of the Butterfly Garden Theme is the bright flowers.  If you love color this theme is perfect for you!   When selecting your flowers, make sure you select  flowers that butterfly's are drawn too.  They make interesting choices in arrangements and bouquets and your guests will ohh and awe over them!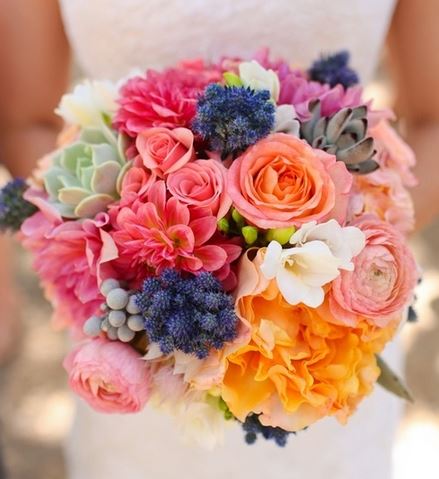 Pinks, yellows, oranges and blueish purples are great choices.  You can get really creative with the flowers.
It is important in any wedding theme not to overdo it…which can be easily done.  You don't have to have a butterfly on everything…but if you "sprinkle " them  throughout the ceremony and reception it will tie everything together.  We love having fake butterflies on the Allium Flower. 
Have a real butterfly release at the ceremony – it is fitting and will be fun element for your guests
Add a butterfly to the bridal parties hair or to the brides hair.  It is sweet touch that will enhance the theme without being overbearing and it will add an element of interest to your pictures.
We would choose short, soft purple bridesmaid dresses.  The soft purple will go great with the bright and vibrant color flowers and is a complimentary color to green.
Think of an element that your guest might not expect.  Make origami butterflies for their place cards and make them find them on a tree  or on green shrub bushes or have them sitting on flowers, displayed like a garden.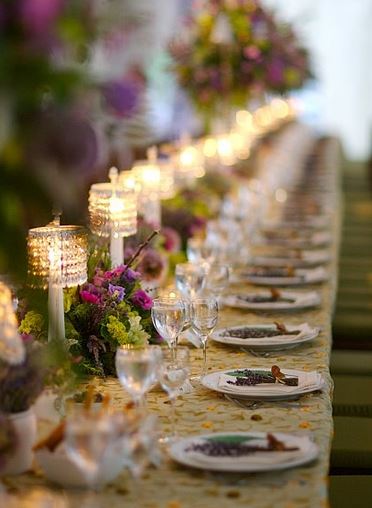 The table décor should be low and people should be able to see across the table.  We like the idea of long tables with bright colored flowers and lots of green.  We would change the lights to lanterns…it seems more butterfly esk to us!
For the cake, you could easily go with butterflies but we prefer the fresh flower look.  Again, you don't want to overdo it.  Using flowers that you used in bridal bouquets or on the tables to incorporate the look!
Here is our take on the wedding theme "Butterfly Garden"