Midnight Masquerade - Wedding Theme
It is fun to pick a wedding theme!  Since we live in the South, we love Mardi Gras and here is our take on how you can decorate your wedding with this theme! 
A bride might not want a full on Mardi Gras theme…so we toned it down a bit calling it "Midnight Masquerade."  This allows you keep the feel of Mardi Gras but change the colors and the tone of the event. 
When creating your wedding inspirations boards it is important to find elements that inspire you or move you.  Never do you want to copy someone's work or ask your wedding professionals to duplicate it to a T.  Be creative and let your wedding pros be creative so they can create a wedding that is yours and yours alone.  Unique is key!
Here are the inspirations our team has for the theme "Midnight Masquerade"
First,  we feel you have to have a dramatic ball gown dress.  This ornate gown would definitely set the tone for sleek and sophisticated "Midnight Masquerade"
A dark red, black or grey would be our color choice for the bridesmaid dresses.  We prefer the deep red in a chiffon fabric that is flows.  We would suggest a long dress for the more dramatic look.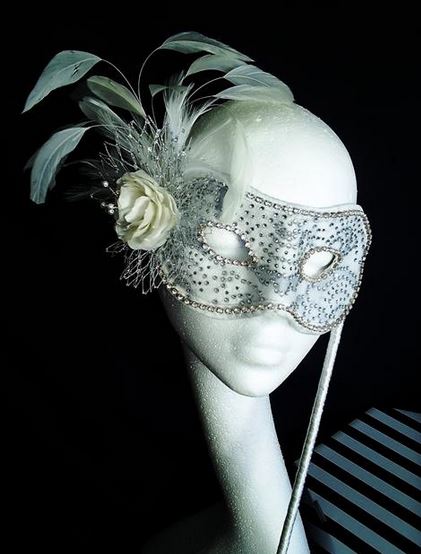 If you are having a masquerade, then you have to have masks.  This is where we would splurge on the budget and make your guests masks dramatic so they get into the theme as well.  Each mask could be their name card when finding their seat and entering into the reception.  Keep the masks in neurtal colors like silver, black,  or gold so they go well with the guests outfits.
Splurge on a mask of your own.  Make sure your mask will stay on your face without holding it.  You will be doing a lot of hugging and dancing and you want your hands free.
For your bouquet  think about a brooch bouquet – it is a perfect theme to rock this look.  Or we love the white and black flowers with hints of feathers in the bouquet.
Cocktail hour or ceremony…or both…think about hiring an opera singer.  It can't get more romantic and perfect for your wedding theme.
We love dramatic and over the top cake table displays….and you can go all out.  This two colored multi fabric table cloth is stunning.  We also like a bold wedding color for the cake…possibly red?
For the reception décor for "Midnight Masquerade" we love roses and candelabras.  The romantic glow of candles sets a perfect tone and roses are classic and elegant choice.  Dramatic lighting and warm tones will enhance the experience.   
If you have the ability of hosting your reception in an old theater…do it.  Having this theme in an historic theater would set your wedding over the top!