Tips on Flowers
Wedding Planning Tips – Choosing your Florist and Understanding Wedding Flowers
If you have not figured it out already, there are a lot of different aspects to planning your wedding.  Choosing a florist and picking out arrangements, flowers, and flower décor is an important element to your wedding with many different "moving pats" that effect the price you will pay for your flowers. 
At Premier Bride, our mission is to educate brides and grooms on the wedding planning process.  Here are some great tips and things to consider when choosing a florist and selecting your flowers!
We would also like to thank Anything with Plants and Flowers who created the arrangements and wrote some of the advice below!
Here are some tips about deciding on a florist to use
·         An important consideration is to make sure your florist has a proper cooler to store the flowers in.  Home refrigerators do not hold flowers at the proper temps and will kill your flowers. 
·         Ask for references!  Make sure you check out the work that they have done from real weddings.  Remember, anyone can pull pictures off the internet!
·         Just because you see something online or on Pinterest does not mean that it can be duplicated.  Some things to consider, silk flowers might have been used, you don't know what season it was and the availability of the flowers or what part of the country the image was taken in. 
·         Talk to the florist about day of the wedding, make sure they and/or their crew will be there to deliver and fix anything that is needed
Let's talk about budget!  It is so important to be honest with your florist about your budget.  Almost all wedding can work within any reasonable budget.  It does not mean you will get exactly what  you want, but a true floral professional will be able to present you with comparable alternatives!
·         Ask yourself, are you set on a particular flower or a particular look?
·         There are a lot of elements to determining the price of flowers; time of year and/or the season they grow, the color of the flowers, how many steams you have to order or if there is a minim order
·         The structure of the each arrangement reflects the price
·         The size of the arrangement effects the price
·         The containers of the arrangement effects the price
The bottom line is that a professional, educated florist can present you options.  By being honest about budget and being able to give your florist a vision, they can present you options to make your flowers, bouquets and arrangements for your wedding.
Here are two examples of centerpieces for weddings.  Anything With Plants and Flowers wanted to show similar centerpieces in the same size and color, however, their price is $100 difference because of the flowers.  Remember,  no one is going to know what might be missing in your arrangements! 
Let's break down the arrangements from Anything with Plants and Flowers;
$ 125.00 Arrangement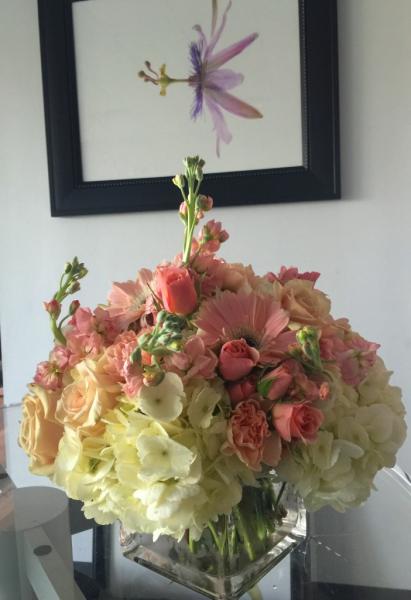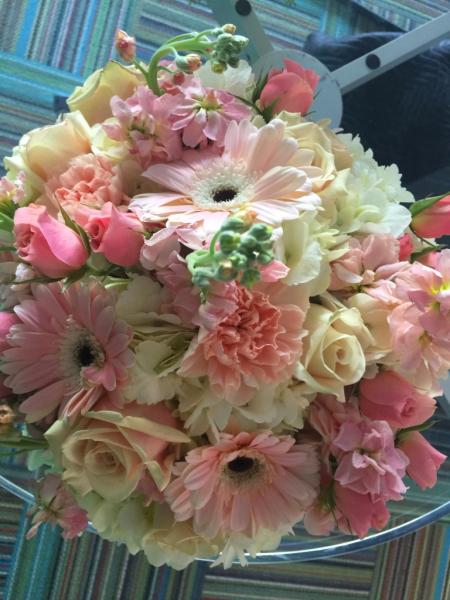 4 Gerbera Daisy
6 Stock
8 Roses
5 spray Roses
6 Carnations
4 Hydrangea
Now lets look at the $ 225.00 Arrangement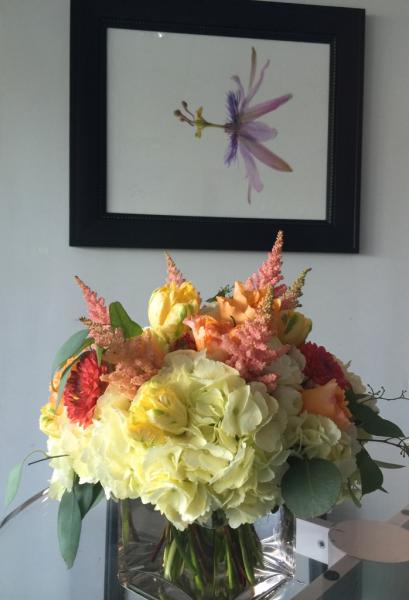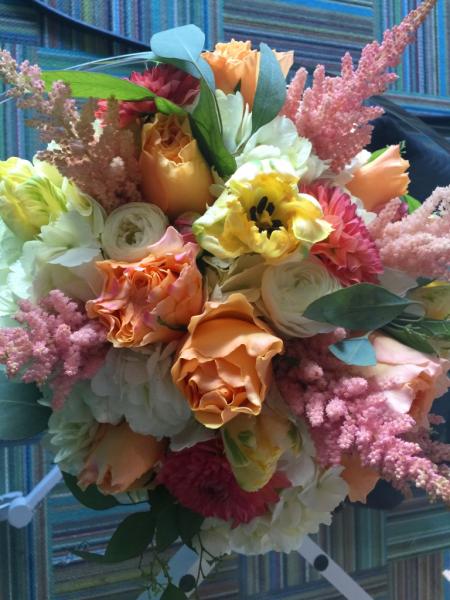 5 Dalias
8 Garden Roses
4 Jumbo Hydrangea
6 Astilibe
6 Ranunculus
5 parrot tulips
We also want to point out the amazing artwork behing the beautiful arrangements - this is by Susna Michal!